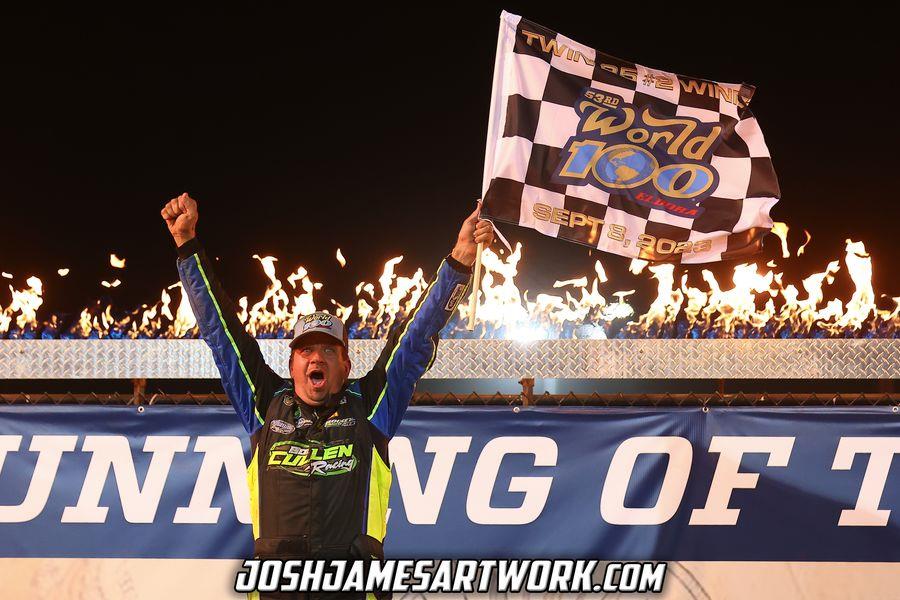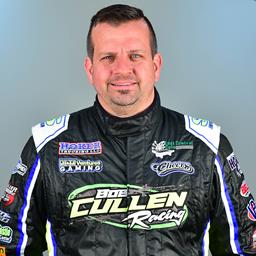 ---
Prelim Night Win Highlights World 100 Weekend For Brian Shirley
Brian Shirley scored an emotional $12,000 victory on Friday night at Eldora Speedway during preliminary action for the 53rd annual World 100.
The Illinois racer topped Ricky Thornton Jr. in a near photo finish to snare his seventh win of the year. The triumph came aboard the Bob Cullen Racing / Thomason Express No. 3s J&J Ventures & Gaming/ Hoker Trucking / Team Zero Race Car / Durham Racing Engine Super Late Model.
"I tell you, I've been dreaming about (winning) coming here for a long time, a long time," said Shirley, his voice crackling with emotion in Victory Lane. "And that one definitely means a lot. It's, you know, chasing these guys. You know, you're chasing (Ricky) Thornton and Bobby (Pierce) all year. And we just keep coming and coming. And then you got guys like (car owners) Bob and Lisa Cullen that just give you everything they can, every opportunity. Then you get a great guy like Brian Conard that just believed in me enough to help me and look, here we are in Victory Lane."
Shirley led laps 2 -18 in the feature before Thornton Jr. slipped past. He took advantage of lapped traffic on the final lap to get to the lead and the win.
"The problem is I just I felt like when (Thornton) surprised me, I should have been driving harder," said Shirley. "I got out there and I started to momentum a little bit and then I'm shutting down too much where I needed this momentum and then we started running back to them. Then we did get the lapped traffic and I was like, 'Holy cow!' I knew how good we were on the bottom. I wasn't sure I was going to be able to get him because I was really, really coming into that guy that was coming off of (turn) four there. But all in all, it was just it was our night."
By all accounts, Brian Shirley's weekend at the 53rd annual World 100 was a resounding success, as the driver of the Bob Cullen Racing No. 8 captured his first career World 100 prelim victory at the famed Eldora Speedway in dramatic style, then rounded out the weekend with a fourth-place finish in the championship event.
With 102 entries in the pit area, Shirley opened his crown jewel weekend on Thursday with a seventh-place finish in his preliminary feature.
Twin 25-lap features took center stage once again on Friday, and Brian earned the third-starting spot for his respective preliminary event via his qualifying and heat race performance.
Wrestling the lead away from Ricky Thornton, Jr. on the second revolution would not be the end of the battle as the No. 20RT slid his way back to the point on Lap 19. Traffic looming in the closing laps would end up coming into play as the pair raced to the white flag. In a drag race down the back straightaway, the pair were even into the third turn. Still, wheel-to-wheel to the front stretch, the finish came down to inches with Shirley nipping Ricky by 0.057-seconds for his seventh triumph of the year.
With a sixth-to-second performance Saturday in his heat race, Shirley earned the ninth-starting spot for the 100-lap crown jewel finale. Rolling in and out of the top-ten during the first half of the feature event, Brian turned it up in the final 50 rotations. Moving up to third on Lap 75, Dale McDowell would ultimately deny him a podium finish by 0.036-seconds as Shirley crossed the finish line in fourth behind Hudson O'Neal, Jonathan Davenport, and McDowell.
"I caught the concrete in turn three early in the feature, and it caused me to slip back, but I was able to get rolling late and we finished fourth. Overall, it was a great weekend for this Bob Cullen Racing team," Shirley concluded.
Full results from the weekend are available at www.EldoraSpeedway.com .
Shirley now turns his attention to four nights of racing in five days this week. He'll be back in his familiar No. 3s on Tuesday night at Fairbury (Ill.) Speedway for the fourth annual One For the Road, which posts a $23,023-to-win finale in the Castrol FloRacing Night in America event.
On Thursday – Saturday the team rolls into Iowa for the Lucas Oil Late Model Knoxville Nationals. The Lucas Oil Late Model Dirt Series (LOLMDS) sanctioned event features $7,000-to-win programs the first two nights followed by a $50,000-to-win finale on Saturday night.
Weekend details can be found at www.FloSeries.com and www.LucasDirt.com.
---
Article Credit: Zach Yost Image
Submitted By: Bryan Hulbert
Article Media
Back to News