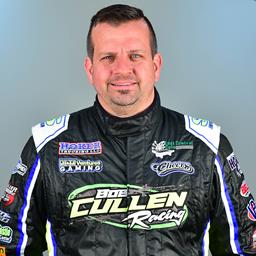 ---
Shirley races to ninth-place finish in Dream XXVIII at Eldora
Bob Cullen Racing and pilot Brian Shirley made the trip to Eldora Speedway (Rossburg, Ohio) on Wednesday afternoon as the remainder of the Dirt Late Model Dream XXVIII resumed with 14 laps complete. (Ryan Roberts Photography)
Sitting in 15th as the field went green for the $128,000-to-win A-Main, Shirley improved six spots in the remaining 86 circuits to register a ninth-place finish.
On Thursday afternoon for a pair of preliminary features to kick off the 52nd annual World 100 weekend, Brian's seventh-place finish in his heat race relegated him into the B-Main for another shot at the A-Main. Needing to place second or better, Shirley came one spot shy with a third-place outing.
For Friday's prelim, Shirley laid down the 12th-fastest time in his group before capturing a heat race win. Recording a Top-5 finish in his 25-lap preliminary feature, Brian crossed the line in fifth, trailing Dale McDowell, Josh Rice, Chris Madden, and Garrett Smith across the line.
On Saturday, Brian posted a seventh-place finish in his heat, transferring into the B-Main for one last shot at the $55,000-to-win World 100 finale. Locking into the top-four, Shirley fell short with a 10th-place outing.
Back to News